Explore the collection.
Write your own story.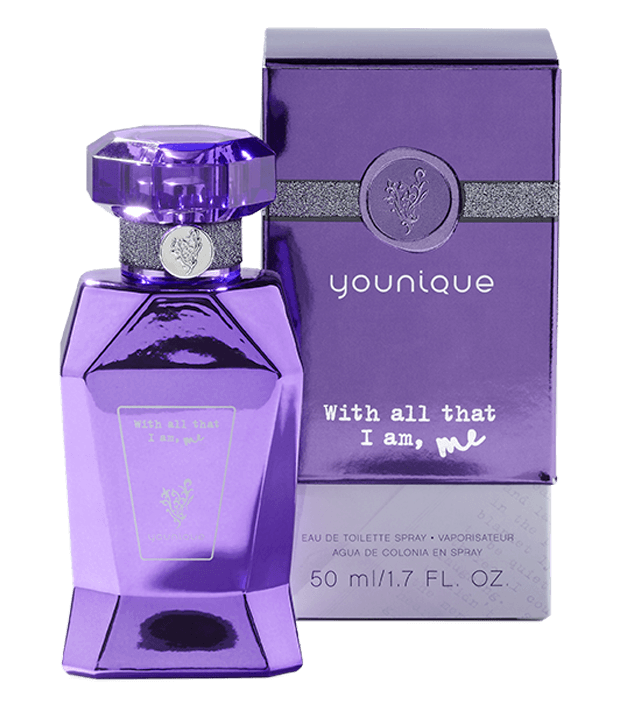 WITH ALL THAT I AM, ME™
Bold and vibrant, this is the audacious scent of love that won't take no for an answer—and a heart that gets what it wants.
BUY NOW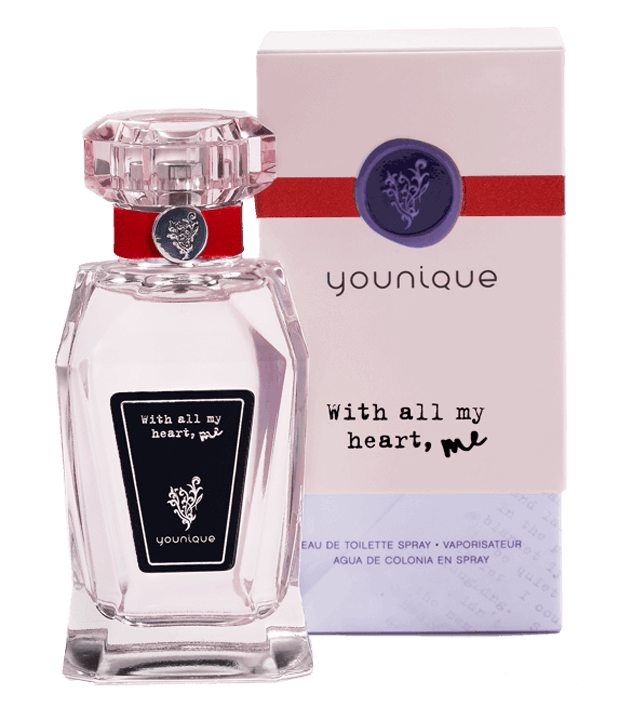 WITH ALL MY HEART, ME™
An uplifting homage to the wonder of a nurturing soul: gentle, comforting, and peaceful.
BUY NOW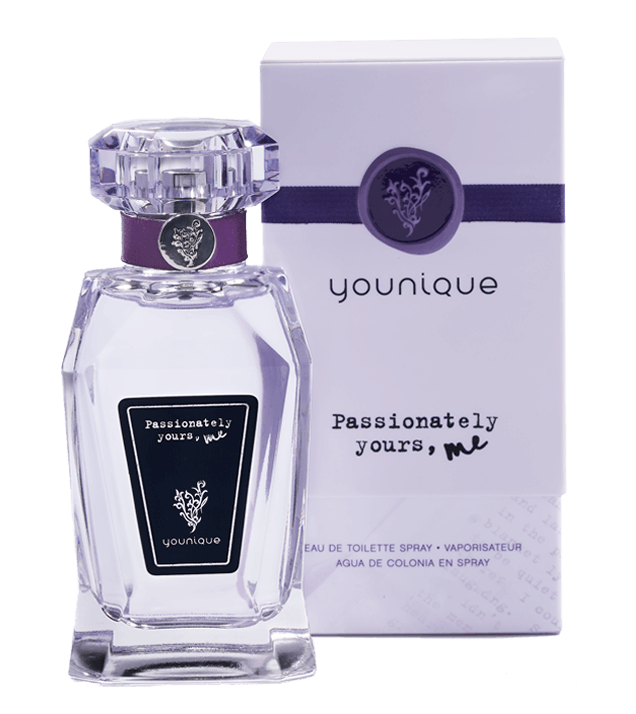 PASSIONATELY YOURS, ME™
A warm, sensuous fragrance that awakens your infinite capacity for love, passion, and life.
BUY NOW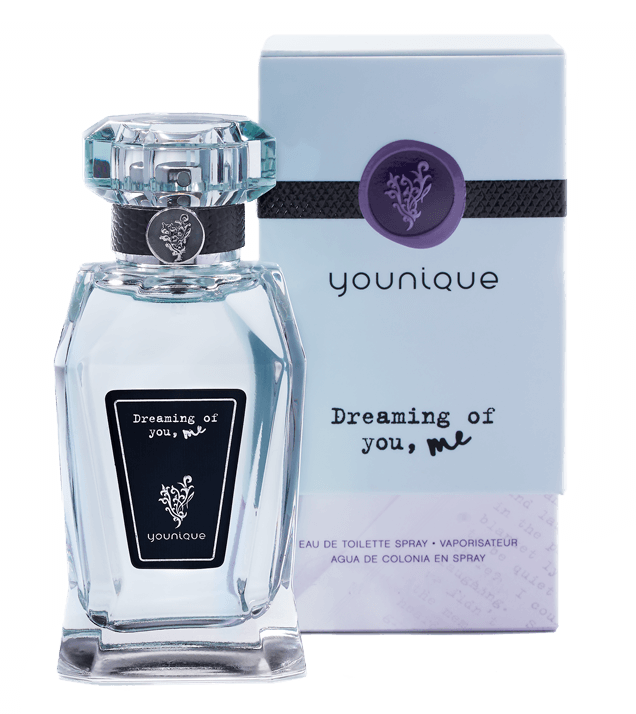 DREAMING OF YOU, ME™
A complex floral that mirrors the exquisite contradictions of the female spirit: bold and confident, yet delicate and tender.
BUY NOW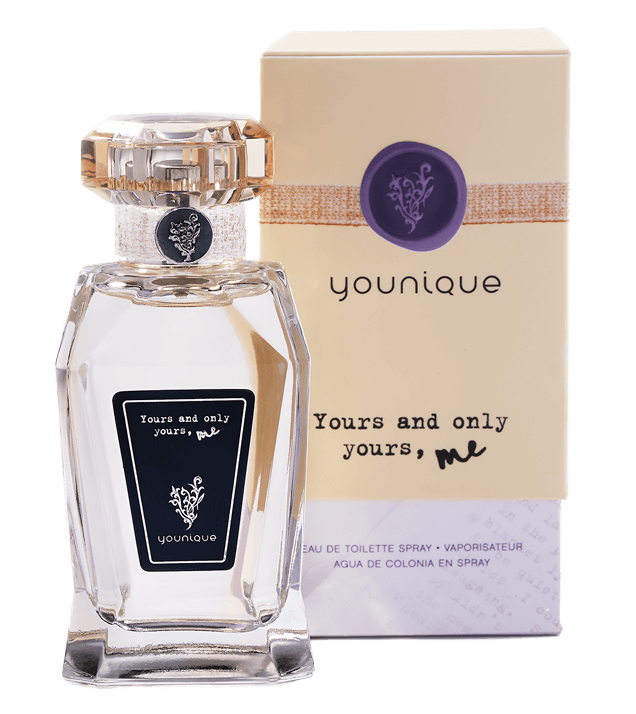 YOURS AND ONLY YOURS, ME™
A bright woody floral that echoes the optimism and warmth of an innocent heart.
BUY NOW
Discover a tale
of true love.
The YOUNIQUE™ fragrance collection captures the essence of lasting love. Learn more about these three special fragrances and hear Melanie Huscroft explain how her remarkable love story was transcribed into enthralling scents.
Explore the collection.
Write your own story.
Limited time only, while supplies last
---
Frequently Asked Questions
What is in a fragrance?

Fragrances are composed of various raw materials (natural or synthetic) blended in precise and harmonious proportions, then dissolved in alcohol.

Why is alcohol used in fragrance?

Denatured ethyl alcohol is used in fragrances to serve as a carrier. It modifies the fragrance intensity and makes application on skin easier and in a better dosage.

What is a fragrance note?

Fragrances are comprised of many different scents, or notes. Examples of notes are rose, apple, vanilla, and musk. Notes allow us to have a common language to describe fragrances and translate emotions into words. Top notes are very light and last just a few minutes (5–10 minutes). Heart notes become apparent about 10 minutes after application and can last a couple hours. Bottom notes are the heavier ingredients that last the longest, usually for several hours.

Do YOUNIQUE™ fragrances contain essential oils?

Yes! Perfumers created YOUNIQUE™ fragrances by intertwining scented ingredients, including essential oils. Essential oils are the fragrant, volatile extracts obtained from flowers, grass, stems, seeds, leaves, roots, bark, fruits, tree moss, and tree secretions. They are obtained through distillation.

What is a perfumer?

A perfumer dreams of a fragrance and creates its formula. Often referred to as "the nose," the perfumer has an innate artistic and imaginative personality, as well as a highly developed sense of smell. It takes many years of training for the perfumer to perfect the olfactory memory that will allow him/her to not only recognize thousands of raw materials, but to recall innumerable beautiful harmonies and blends. The perfumer must have the rare creative ability to visualize a scent and "construct" it using the olfactory memory.

Why are YOUNIQUE™ fragrances called eau de toilettes?

Eau de toilette is a 19th-century French term for fragrance. Because it has a lower concentration of essential oils than perfume, it's less overwhelming and is more suitable for everyday wear.

Is fragrance a synonym for eau de toilette?

Yes! In fragrance terminology, fragrance is a general term for any concentration, such as perfume or eau de toilette.

Are the musks in YOUNIQUE™ fragrances animal-derived products?

Absolutely not! For ethical reasons, Younique's fragrances, PASSIONATELY YOURS, ME™ , DREAMING OF YOU, ME™ , and YOURS AND ONLY YOURS, ME™ , do not contain any natural animal musks. Rather, a modern musk statement from Younique is derived only from cutting-edge science, using sophisticated synthetic materials that capture the effects of natural animal musk with uncanny precision to provide the most memorable olfactive experience.

Do fragrances belonging to the same fragrance family smell the same?

Not really. Fragrances that are constructed in a similar manner and have key ingredient combinations in common are said to be in the same family. Even if a fragrance shares top, heart, or base notes with other fragrances, it does not necessarily smell the same and most likely each fragrance within the same family has its own personality.

How can I keep my fragrance from going bad?

Keep all fragrances in a cool, dry area, and away from windows, as sunlight can unbalance the various ingredients. An opened bottle should be kept in its box to ensure a longer shelf life.

How long can I keep my YOUNIQUE™ fragrance if it has never been opened?

Generally, a fragrance remains stable for two to three years if it has never been opened and has been stored in a dark and cool place.
Read the FAQ